Stéphane Rousson
---
Washington, USA, June 2011
Scubster, from dream to dive.
The astronaut, Heidemarie Stefanyshyn-Piper, a member of the teams navigating the space shuttles Atlantis and Endeavour, presented the "Innovation Award" to Stephane Rousson and the Scubster team at the 11th International Submarine Race.
Perched on a bridge of the biggest American marine research center, the Carderock Naval Warfare Surface Center, I can only look back on this exciting dive piloted by my friend, Stéphane.  An exceptional moment!
Between Villefranche and Saint-Jean-Cap-Ferrat, we spent an hour underwater.  It was an artificial basin, but the adrenaline of challenging other submarines from so many other countries and the demonstration of remarkable teamwork will remain a wonderful souvenir.
Propelled by two propellers linked to cranks by a belt, the Scubster can reach up to 8 km/h!  It also flies the colours of Eco-Sys Action since the adventurers of Scubster support our Whale shark project in the Philippines. 
Like with his adventure in a pedal powered balloon, Stéphane Rousson has once again demonstrated that dreams become reality with patience and tenacity, whether they are underwater or aerial.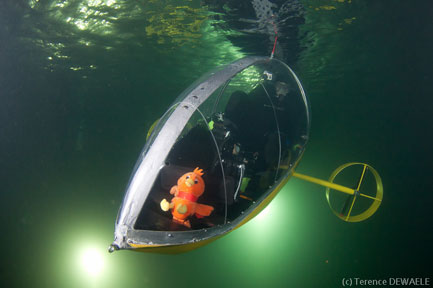 ---
Stéphane Rousson scouting Kenya for locations, November 2008
Adventurer Stéphane Rousson, who attempted the crossing of the English Channel with his muscle-powered balloon, was in Kenya and visited Eco-Sys Action projects there. He was accompanied by Laurence Latour who is working on his book, a great poetic text called "A la lisière de l'Utopie".
Stéphane Rousson was scouting Kenya to find suitable locations for his documentary project with his balloon. Among sites of interest were the Great Rift Valley, the cradle of humanity, Lake Magadi in Maasailand and Diani Beach on the Indian Ocean.
Photos of this trip are available on Stéphane's blog at http://zeppy-kenya.skynetblogs.be
---
Eco-Sys Action, sponsor of the English Channel crossing by muscular powered balloon, September 2008
An outstanding eco-challenge with a strange flying machine was launched by balloon flyer Stephane Rousson over the English Channel on September 27. Two-thirds of the way, winds started to blow in the wrong direction and after eight hours of pedaling, the crossing came to a halt. It was however an overwhelming success, proving to adults and kids alike that it's always possible to dream big and accomplish things with imagination and hard work. It has taken Stephane Rousson five years of technical arrangements and training to be able to fly that far.
Boopy, the Eco-Sys Action eco-detective orange sparrow, was the official mascot for this crossing which covered by media outfits around the world. It was also a way to teach people about the plight of whale sharks around the world; as the biggest fish in the world, whale sharks can also be seen as underwater swimming balloon! A symbol that strikes people's mind.