Boromo, Burkina Faso
Today I must leave, but not without passing by the school.  The children had extraordinary dreams, beautiful dreams.  Today I hear a child say, "my elephant friends."  The monster with the huge ears no longer exists and these children have become highly motivated ambassadors to their families and friends.  For more than ten years Julien and www.deselephantsetdeshommes.org have brought over 3000 children to see the elephants and the mentality is changing in the Boucle du Mouhoun Region, also encouraged by different revenue generating projects that have been progressively put in place.  It is necessary to save the forest! 
I have also brought some good news for Julien.  Eco-Sys Action (www.ecosysaction.org) has decided to finance the training of several people to the valorization of the medicinal plants of Deux Balés forest.  These tradi-pratictioners will learn to better collect, condition, and market the medicinal plants of the forest.  The forest is then transformed into an enormous pharmacy that is vital to preciously protect. 
See you soon friends and BOOPY POWER! 
---
Boromo, Burkina Faso
The night was short and Julien and I talked a lot about the children, their reaction, and the impact this book could have on the future of elephants in the Boucle du Mouhoun region.  There are 160 primary classes who will soon receive these books and the objective is to distribute them in 360 schools.  Thousands of children will benefit from this educational and interactive tool since it is accompanied by teachers' resource material.
What a welcome upon our arrival at the school!  The kids are excited, they have a million questions, commentary, ideas about the book "My Elephant Neighbour."  It is great to see them so happy.  The monster, the elephant, is now a neighbour that they respect and want to help.  Today Djénéba and Julien have a big surprise for them:  tomorrow, the entire class is going to see elephants in the Deux Balés forest!  The kids dance, sing and scream with joy!  See you tomorrow for an awe-inspiring outing!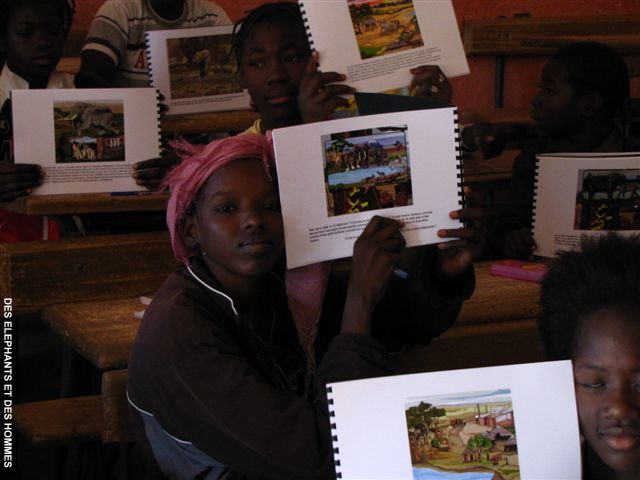 ---
Boromo, Burkina Faso
The children passed on a secret... elephants hate hot pepper too.  Jabu affirmed this.  The plan is to plant hot peppers around farms and to hang them along fences.  Des Elephants & des Hommes (www.deselephantsetdeshommes.org) is full of interesting ideas.  They understand that to help reduce conflicts with elephants and the environment, it is necessary to help the people living close to Deux Balés National Park have an economic and social interest in preserving their region.  If not, elephants will be killed and there will be no forests left.  Revenue generating activities are the future of successful conservation and I fully support these logical initiatives.  Controlled eco-tourism could also be a sustainable solution.  Thanks kids, and see you on Monday in class!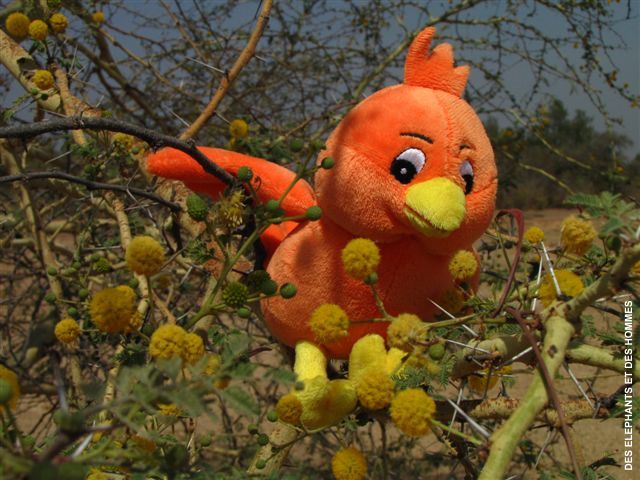 ---
Boromo, Burkina Faso
It's a big day.  "To protect, it is necessary to understand." Julien told me yesterday and he is definitely right.  He conceived the story"My Elephant Neighbour" in which the grandmother of a young Noa explains why it is necessary to protect elephants and how Man's destiny and that of elephants is tightly linked.  A beautiful story and this morning we are going to distribute the books illustrated by Eco-Sys Action (www.ecosysaction.org) of which I am the very proud ambassador.  I have also shared this story with you here . Djénéba, the project coordinator, is also here to help.
What excitement!  The kids are super happy and they are finally going to be able to better understand who these big-eared monsters living in the neighbouring forest really are.  I am going to leave them to read this wonderful story in peace and we will meet up here again at the same time tomorrow morning.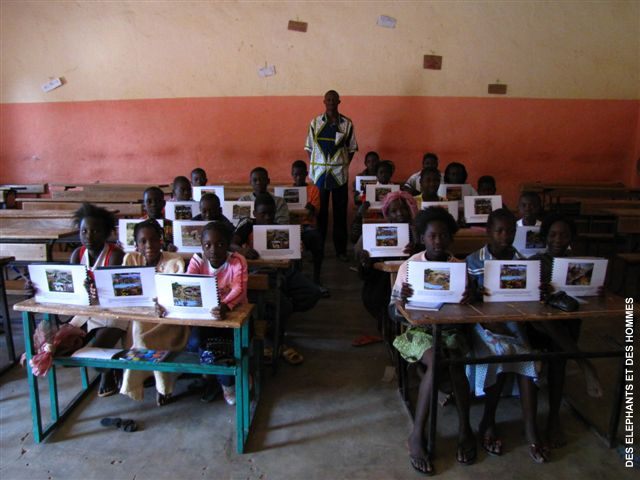 ---
Boromo, Burkina Faso
Today I have a meeting with my little friends Fatoumata and Abdoulaye. They have never seen an elephant, but they know they are dangerous and they are afraid of them.  Last year their parents' field was destroyed one night by a herd of elephants.  Elephants are like monsters for them.  Since, thanks to the activities of Julien (www.deselephantsetdeshommes.org) and local organisations, their village has organised and more closely monitors elephant movement.  Their parents have also accepted to reduce their herd of cows and have started raising cane rats, which lessens their impact on the park, leaving more space to the elephants in their natural environment.  Soon the village will take up bee-keeping to produce a speciality honey that the habitants will be able to sell for a good price. 
What other way to intelligently protect himself?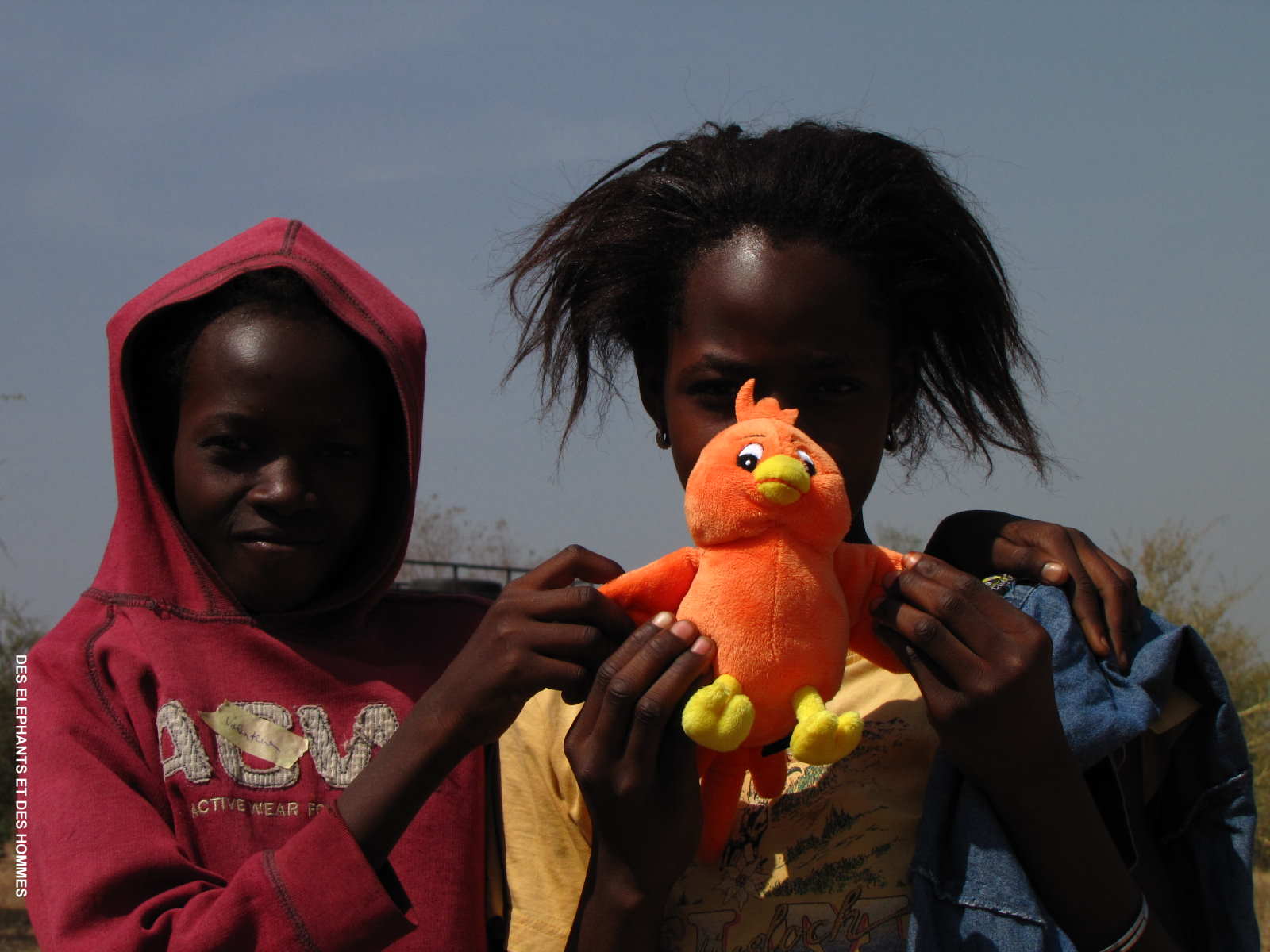 ---
Boromo, Burkina Faso
A few seeds for breakfast and here I am in full conversation with my good friend Julien.  Here, in Burkina Faso, elephants are threatened more by habitat destruction than by poaching.  In West Africa, elephant populations are very fragmented, rendering them more fragile.  There are no corridors between the different forests where they live so movement is limited. 
The NGO Des Elephants & des Hommes (www.deselephantsetdeshommes.org) actively works on the edge of Deux Balés National Park in an attempt to preserve this rapidly receding forest that is also being invaded by neighbouring farmers' livestock.  Lions, hyenas, buffalo, certain antelope, and many other animals have already disappeared from the park.  Let's take a tour! 
---
MISSION - ELEPHANTS 2012
Boromo, Burkina Faso
The vegetation is a huge contrast from the swampy Okavango Delta of Botswana.  Burkina Faso is a country threatened from the North by the advancement of the desert.  It is also a country of enormous rivers, and the Boucle du Mouhoun Region, where I arrive, is a forested region as beautiful as it is threatened, bordering the Mouhoun River (Black Volta).  There is Julian waving at me, as always super friendly and relaxed.  We have a thousand things to talk about, but first, I must make a short detour by the village school to say hi to my little friends.