Ocean
I have just been informed that Eco-Sys Action had joined the Antarctic Ocean Alliance (www.antarcticocean.org) in order to protect this fantastic yet so fragile eco-system.
---
What have you done for Earth Day? It's a bit like our Planet's birthday. In fact it is just another day and it's every day that we must make a difference. In the meantime, you can check One Day On Earth at http://fr.video.search.yahoo.com/search/video?p=one+day+on+earth+.org
---
Donsol, Philippines, June 2011
The world's rarest shark!
I received some astonishing news when I was flying to Donsol, one of the world's whale shark capitals: a megamouth shark (Megachasma pelagios) had been discovered in Mexico, only the 52nd since the first sighting of this mysterious animal in Hawaii in 1976.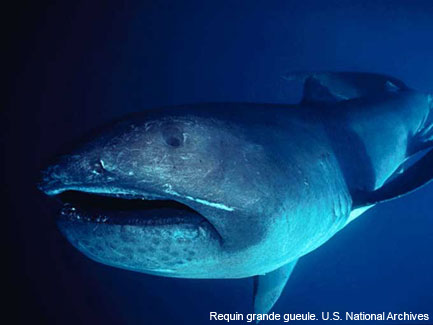 Two years ago, number 42 was caught in a fishing net at a depth of 200 meters and was taken to Donsol.  Measuring more than 4 meters long and weighing in at 500kg, it didn't survive it's injuries and was eaten in "kinout," a local recipe with coconut, sadly, very often using manta ray.  For a meal, which was without doubt one of the rarest in the world, this shark was lost to science.  It was one of the fishermen who told me this remarkable story. 
Little is known about the megamouth shark.  It appears to pass most of it's time at a depth of around 1000 meters and then rise toward the surface to feed on plankton, jellyfish and small fish.  Like  whale sharks and basking sharks, megamouth sharks are filter feeders.  It's name is credited to it's enormous mouth (up to 1.3 meters wide) which is filled with tiny teeth. 
Several symbols surround this very rare take in Donsol.  First of all, it is undeniable that very little is known about the depths of the ocean and the mysterious animals that live there.  It is also proof of the indisciminating damage caused by drift nets on all ocean life.  Whale sharks are too often victims.  On a more positive note, there is no longer any doubt about the richness of sea life in Donsol.  This region possesses an incredible biodiversity that must be conserved, a treasure to protect, and quickly.  The whale sharks are making no mistake when they stop in Donsol during their annual migration. 
It is time to go and tell this story to the students in the schools of Donsol and Sorsogon province.  They don't know much about the marine life in the area surrounding them and in their eyes it is a mystery.  We often only protect what we know! 
A short trip to meet the megamouth shark:
---
Qingdao, China, October 2010
China's role
The 2008 Olympic Games have long been over, the sailboat races are only a distant memory, but crowds of tourists continue to flock to the seashore at Qingdao, a large city situated in the Northeast of China on the Yellow Sea. 
Flying over these few hundred meters of beach, I can't help but think of the over exploitation of our oceans with the thousands of shells and marine turtles sold as decorations, and even tiny living fish sold in plastic key chains.  I also reflect on the difficulties of the fishermen, who are now no more than circus animals trying to flaunt their meager catch under the cameras of passing tourists. 
My feathers freeze at the thought of so much proof confirming the uncertain future of our oceans!  It is not a toy, we do not own it and it does not contain infinite resources.  I would like to loudly chirp my dissatisfaction but before throwing accusations, it is necessary to explain and above all it is necessary to do better ourselves. 
So I whispered the story of the oceans to a few attentive youth; one day I will show them Jacques Perrin and Jacques Cluzaud's film, "Oceans" with it's breathtaking images which arouse so many positive emotions, simply by showing the beauty of the marine world, its power and its fragility. 
In China, like elsewhere, the youth are ready to take up the fight.  The just need to be made aware of the problems, the solutions as well.  They will find them too, I am sure.  Daniel, one of the region's youth, wants to hep me.  He is studying in Shanghai and with his friends he hopes to make a difference.  He loves nature and his country.  He is responsible. 
Him, his friends, others, behind a little ball of orange feathers, I chase my black ideas like the accidental pollution a bit further North in Dalian, and take to the sky again, confident in my dream to create eco-centers in China where the youth can go to learn about the fragile balance between nature and Man. 
China has an exceptional role to play in the future of our planet, and this new generation has the possibility to put their country in a model position.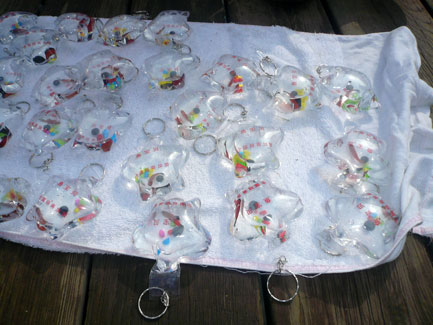 ---
herbourg, France, August 2010
Oceans, between hope and disappearance
Today I am meeting a flock of gulls.  They are going to show me the strange architecture of the Cherbourg Liner terminal in Normandy in Northwestern France. 
Large ships, like the Queen Mary 2, still come from time to time to relive the amazing past of this history filled building.  Even the Titanic stopped in before sinking in the middle of the Atlantic. 
I leave my friends outside after checking out several scientific submarines, each stranger than the previous because we are here at La Cité de la Mer (city of the sea), a great place for sea lovers.  It is the film "Oceans" that interests me, and one of the key scenes of this documentary was even filmed here. 
Everyone seems to be fascinated, especially the kids, and they barely notice me.  I take my time watching videos and following on the giant map the 54 sites where this monumental film was shot. 
My friend, Francois Sarano, a member of our panel of experts and one of the first to believe in Eco-Sys Action, made a large contribution to this film.  It is he who is alone in front of and swims with a Great white shark.  What an awe inspiring scene that really demonstrates how we should have greater tolerance of sharks!  Admirable and and moving when Francois swims with this sea "monster."  You can feel his passion for the sea and this makes him one of the best ambassadors for sharks. 
More strong emotions seeing this life sized reproduction of a Steller's sea cow.  Not very well known this animal, is it?  And for a reason, since it was massacred in the 18th century for its flesh, fat and skin.  This giant cousin of the dugong lived in the Arctic, close to the Bering Strait, but was rapidly hunted to extinction.  And this Caribbean monk seal? Gone!  And this sea turtle?  Protect it as quickly as possible!   
As I sit on this Steller's sea cow, so symbolic, I remember the message from "Oceans": "the Earth does not belong to us, it is to share.  Anything is possible."
See the Oceans trailer at:
---
Exposition "beware, fragile sea" in Grand Aquarium of St Malo, France, June 2005

Eco-Sys Action teamed up with the Association Mer Fragile, working on the exhibit details such as shark conservation posters and financing all the posters to create a summer of awareness to the aquarium's visitors. Hundreds of signatures were also collected for shark conservation in French Polynesia and sent to the authorities there via the action of Longitude 181 Nature of François and Veronique Sarano.
The exhibition focused on the poor state of the seas and the simple things we can do to help protect our oceans, clean up our beaches and be responsible for our marine environment. Local schools participated in several concrete actions and kids were taught about their role in that ecosystem.
A Spanish short documentary called The Sea Belongs to Everyone was also given by Eco-Sys Action to the hosting organization for screening in the aquarium's main hall.
Recycled Eco-6 products were also sold at the aquarium shop.
---
Celebrate the Sea, Singapore, June 2005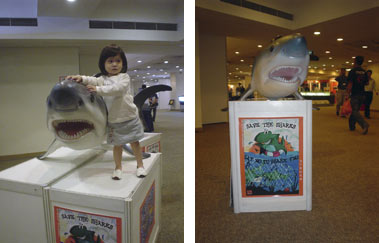 This year, "Celebrate the Sea" has settled down in Singapore and Eco-Sys Action was once again the main sponsor. Emphasis was on shark conservation and the public was welcomed by an Eco-Sys Action cartoon exhibit with "Reefy, the little shark of the oceans" (see story) and a huge resin shark sculpture that was offered to the Ocean N Environment Foundation for their ongoing awareness campaign. World-famous biologist Sylvia Earle and acclaimed National Geographic photographer-in-residence David Doubilet were present and warmly congratulated the Eco-Sys Action team for their continuing efforts on shark conservation education. They received an Eco-Sys Action marine crystal which they enjoy very much (see the full collection). As usual, the drawing contest was one of the highlights of the gathering and the kids left with a happy smile with their Eco-6 gift.

---
Antibes World Festival of Underwater Pictures (France), November 2004

Meeting all our conservation friends at Antibes was again a rare pleasure. Shark conservation was thoroughly discussed with Leo Blanco whose photos, movie and video clips on sharks are a great mix of awareness and humour. We also met with Francois and Veronique Sarano and established a firm intention for Eco-Sys Action to cooperate on a large-scale project with their association Longitude 181 Nature. Bernard Abeille showed us once again that conservation and music can match so well, photographer Todd Essick launched his new "beginnings" photo collection and "the painter of blue" Pascal Lecocq who delighted us once again with his humorous and touching art. It was also nice to chat with Jean-Michel Cousteau, Philippe Valette, Daniel Mercier and Pierre Cotton and so many more.
---
Antibes World Festival of Underwater Pictures (France), November 2003
Following the Celebrate the Sea exhibition in Kuala Lumpur, the Eco-Sys Action Foundation was kindly invited by Daniel Mercier and Pierre Cotton, the organizers of the legendary Antibes World Festival of Underwater Pictures in France (www.underwater-festival.com). Most of the marine world lovers meet there and it was especially unforgettable for the Eco-Sys Action team to welcome crew members of the famous Calypso of Jacques-Yves Cousteau like Falco, Andre Laban, Francois Sarano and of course Jean-Michel Cousteau. And what a wonderful time it was!
---
Dive Expo, Sydney (Australia), September 2003
Eco-Sys Action participated in the International Dive Expo in Sydney, Australia and met wonderful people there, not the least of them Jean-Michel Cousteau! The level of conservation awareness is very impressive down under and kids were very attracted by our message.
---
Celebrate the Sea, Kuala Lumpur (Malaysia), August 2003
Eco-Sys Action has partnered the Ocean N Environment Foundation (based in Singapore) at the first "Celebrate the Sea" exhibition in Kuala Lumpur. Emory Krystof, the deep sea diver working with James Cameron on the Titanic project ,was introducing his latest IMax movie Volcanoes of the Deep. A drawing contest brought entries from several countries on the Save the Sea theme. All kids received a gift from Eco-Sys Action for their outstanding talent and imagination.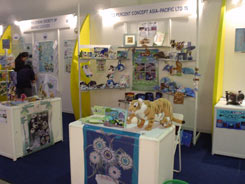 The Malaysian public turned out in droves to learn more about the oceans and its fragile ecosystem. Malaysia has one of the most incredible biodiversity in the world ranging from tigers, tapirs, rhinos and elephants in its peninsular parts to orangutans, proboscis monkeys and pygmy elephants in Malaysian Borneo. Through its islands and long seashore, its marine life is also thriving with sea turtles, sharks, whale sharks, manta rays, etc.