Eco-Sys Action tiger gets star treatment, June 2006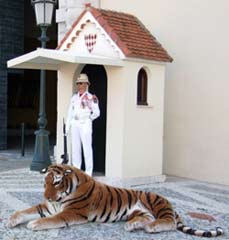 Our giant tiger plush was a star at the world-famous Negresco Hotel in Nice, France. We were welcomed by the Negresco's staff, and even their cat mascot said hello! Overall, it was a comfortable and enjoyable stay. Official authorization was also given by Monaco Palace for a photo shoot there.
The late afternoon was spent on a beautiful American sailing boat anchored in Monte Carlo harbour on her way around the world. We'd like to thank Nicolas Cegalerba for his great shots. After his expedition in Guyana and Madagascar, it was a refreshing change for him to take care of our giant plush tiger! Enjoy his art at ncegalerba.com and don't forget to look at our photos on his website.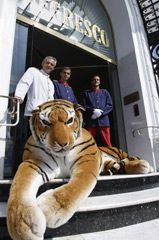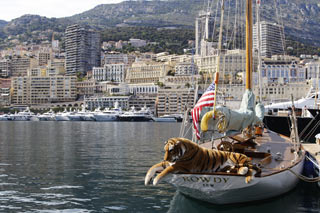 ---
A Big Conservation Gathering, June 2006
Eco-Sys Action were again the official partners of the 3rd Conservation Forum in Angers, France. Organized by Pierre Gay of Zoo de Doue-la-Fontaine, the forum this year focused on South America.
Serious issues, inspiring connections
Talking to so many eco-warriors and conservationists was very inspiring. Everything from the survival of the spectacled bear in the Andes, the increasing traffic of macaws in Bolivia, the situation of maned wolves in Argentina to the pet trade of sloths in Colombia were discussed.
A productive and uplifting meeting
There's so much to be done to educate local communities and governments around the world. But it was very reassuring to listen to such dedicated people, all fighting for the environment and doing their part in helping out. It was an extremely productive and uplifting meeting, with new ideas exchanged as well as new connections formed among eco-warriors. Thanks Pierre!
All the participants received a document holder made of recycled juice packs by Eco-Sys Action in the Philippines, a project helping over 200 families in a Manila suburb.
---
Monacology, Monaco, June 2006
Monaco - Eco-Sys Action & Eco-Fun were the official partners of the 2nd Monacology Exhibition in Monaco. Organised by
Act for Nature
, the event was a great success.
Hundreds of school kids were taught about the environment, learning about Madagascar's ecosystems, the survival of the Perrier's Sifaka lemur, turtles' fight for life in Senegal, and the Mediterranean Sea's ecosystem.
The famous green Monacology silicone bracelet was distributed to every kid and again, the star of the week was our giant tiger plush (2 m 40 /7 feet +) which amazed everybody, including Formula One great Harald Franzen and his children. Eco-Sys Action & Eco-Fun had a booth and our eco-plush toys, recycled bags, and T-shirts sold like hot cakes!