Aids
---
Dete, Zimbabwe, February 2011
Providential Painted Dogs
The Painted Dog Conservation Project (PDC), not far from Victoria Falls in Zimbabwe, is definitely one of the most successful conservation projects in the world and this visit, with my friend Renaud Fulconis (www.awely.org), is once again proof. 
I will never forget my first visit here and the children who sang about AIDS during the last evening of an incredible bush camp organized by the PDC.
How many 10 to 12 year olds around you talk about AIDS?  In Zimbabwe, sadly, it is a daily reality. This "silent epidemic" most often hits the children hardest, psychologically and often physically.   
For many, AIDS is a disease of the past, but this virus is more dangerous than ever, everywhere and for everyone.  Educate yourselves, talk about it, especially youth.
St Patrick's Hospital and the PDC actively participate in education, distribution of condoms to help prevent the spread of the disease and treatment (antiretroviral therapy).  Early detection is important in order to be able to act and save lives.  Many people, especially women, are encouraged to undergo testing and to speak more freely with others, and to broach a subject that is taboo because it is so dangerous.
What does this have to do with Painted Dogs?  It is finally clear that to help an animal survive is to assure a good balance with the local community.  The benefits to the local population thanks to the presence of Painted Dogs offer enough reasons to save them.  Greg Rasmussen, Peter Blinston, and the entire team of the PDC understand this and actively participate in www.wild4life.org, an admirable program largely supported by the Wildlife Conservation Network (www.wcn.org). 
On the return trip, I thought to myself that one of these children that sang their despair over AIDS during my first visit will, perhaps, be saved by this program, thanks to these providential Painted Dogs.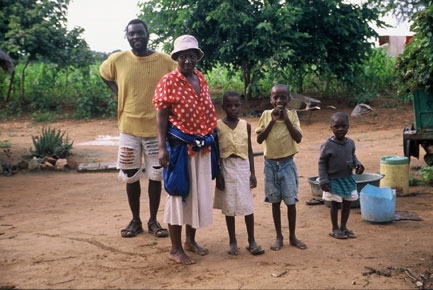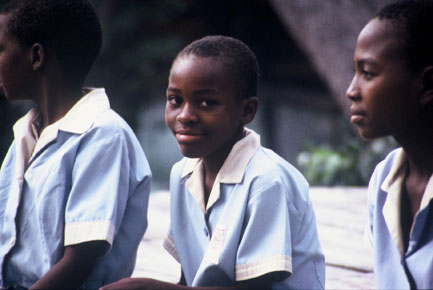 ---
Eco-Sys Action joins Caap Aids sensibilation events, November/December 2008

Three great initiatives by Caap Aids in Les Pieux and Cherbourg (Manche) have helped connect people with the disastrous situation of AIDS around the world and the need to keep up the fight against this disease.
A beautiful show by Danse Plurielle, the dancing school created by Catherine Cadol, dazzles every talk with UNICEF, along with a doctor specializing in AIDS and Eco-Sys Action represented by Valérie Pilard. Valérie delivered a very meaningful talk, talking about the millions of AIDS orphans in sub-Saharan Africa and the Eco-Sys Action program in Kenya for the kids who have lost everything.
Handicrafts from Kenya were sold after each event, raising more funds for the Eco-Sys program.