Celebrate the Sea, Kuala Lumpur, Malaysia, August 2003
Eco-Sys Action has partnered the Ocean N Environment Foundation (based in Singapore) at the first "Celebrate the Sea" exhibition in Kuala Lumpur. Emory Krystof, the deep sea diver working with James Cameron on the Titanic project ,was introducing his latest IMax movie Volcanoes of the Deep. A drawing contest brought entries from several countries on the Save the Sea theme. All kids received a gift from Eco-Sys Action for their outstanding talent and imagination.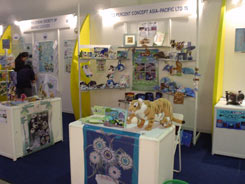 The Malaysian public turned out in droves to learn more about the oceans and its fragile ecosystem. Malaysia has one of the most incredible biodiversity in the world ranging from tigers, tapirs, rhinos and elephants in its peninsular parts to orangutans, proboscis monkeys and pygmy elephants in Malaysian Borneo. Through its islands and long seashore, its marine life is also thriving with sea turtles, sharks, whale sharks, manta rays, etc.