Boopy, official mascot of the Tand'Afrika, December 2008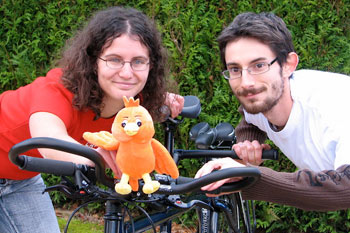 Eco-Sys Action is one of the main sponsors of the Tand'Afrika, the crossing of Africa with a tandem bike by Adeline Reynouard and Olivier Godin. Boopy will be the official mascot and will follow the tandem during 18 months in 17 countries over 16,000 km, meeting kids and animals on the way.
Named Animodyssey, the idea for Adeline and Olivier is to link endangered species areas as well as some of Eco-Sys Action projects in Africa. It's a great opportunity to reflect on one of the great environmental challenges faced by our planet: the loss of biodiversity.
The adventure will depart from Rambouillet near Paris on January 11, 2009 and you can already follow Boopy on its blog (in French) at http://www.tandafrika.com/boopy