You are here: Eco-Sys Action >> News >> Eco-Sys Action News
Polar bears at Mulhouse Christmas market, France, December 2008
The Zoo de Mulhouse booth at Christmas market was beautifully decorated and introduced a full range of selected Eco-6 products. It is currently a fantastic success with people rushing to buy their polar bear toy or other items displayed there. This shows the high interest for people in ecology and confirms polar bears as a tremendous symbol for global warming.
Three eco-attitudes are mentioned for instance on every tag inviting people to take a shower rather than a bath, take the bus or tram, and put a pullover instead of turning up the heater at home. These are three little things that could be multiplied by millions of people and helping polar bears to keep their ice caps which are heavily threatened by global warming.
---
Boopy, official mascot of the Tand'Afrika, December 2008
Eco-Sys Action is one of the main sponsors of the Tand'Afrika, the crossing of Africa with a tandem bike by Adeline Reynouard and Olivier Godin. Boopy will be the official mascot and will follow the tandem during 18 months in 17 countries over 16,000 km, meeting kids and animals on the way.
Named Animodyssey, the idea for Adeline and Olivier is to link endangered species areas as well as some of Eco-Sys Action projects in Africa. It's a great opportunity to reflect on one of the great environmental challenges faced by our planet: the loss of biodiversity.
The adventure will depart from Rambouillet near Paris on January 11, 2009 and you can already follow Boopy on its blog (in French) at http://www.tandafrika.com/boopy
---
Eco-Sys Action joins Caap Aids sensibilation events, November/December 2008

Three great initiatives by Caap Aids in Les Pieux and Cherbourg (Manche) have helped connect people with the disastrous situation of AIDS around the world and the need to keep up the fight against this disease.
A beautiful show by Danse Plurielle, the dancing school created by Catherine Cadol, dazzles every talk with UNICEF, along with a doctor specializing in AIDS and Eco-Sys Action represented by Valérie Pilard. Valérie delivered a very meaningful talk, talking about the millions of AIDS orphans in sub-Saharan Africa and the Eco-Sys Action program in Kenya for the kids who have lost everything.
Handicrafts from Kenya were sold after each event, raising more funds for the Eco-Sys program.
---
Stéphane Rousson scouting Kenya for locations, November 2008
Adventurer Stéphane Rousson, who attempted the crossing of the English Channel with his muscle-powered balloon, was in Kenya and visited Eco-Sys Action projects there. He was accompanied by Laurence Latour who is working on his book, a great poetic text called "A la lisière de l'Utopie".
Stéphane Rousson was scouting Kenya to find suitable locations for his documentary project with his balloon. Among sites of interest were the Great Rift Valley, the cradle of humanity, Lake Magadi in Maasailand and Diani Beach on the Indian Ocean.
Photos of this trip are available on Stéphane's blog at http://zeppy-kenya.skynetblogs.be
---
Eco-Sys Action named Earth Champion, Hong Kong, November 2008
It was a great joy shared by all Eco-Sys Action team to be named Earth Champion 2008 by the Earth Champions Foundation.

The Earth Champions Foundation launched Earth Champions in September 2000 with the aim of inspiring young people to fight environmental degradation. Nelson Mandela presented the first-ever Earth Champions award.

People and organisations that have made a significant and positive impact on an environmental issue can be an Earth Champion. Eco-Sys Action was recognized for its actions among the community and especially with the youth.
A ceremony attended by Sir Crispin Tickell, an expert in climate change, and local authorities, has been held in Cyberport, Pokfulam, Hong Kong with an "Earth Champions meet the public" session some time later.
---
Eco-Sys Action, sponsor of the English Channel crossing by muscular powered balloon, September 2008
An outstanding eco-challenge with a strange flying machine was launched by balloon flyer Stephane Rousson over the English Channel on September 27. Two-thirds of the way, winds started to blow in the wrong direction and after eight hours of pedaling, the crossing came to a halt. It was however an overwhelming success, proving to adults and kids alike that it's always possible to dream big and accomplish things with imagination and hard work. It has taken Stephane Rousson five years of technical arrangements and training to be able to fly that far.
Boopy, the Eco-Sys Action eco-detective orange sparrow, was the official mascot for this crossing which covered by media outfits around the world. It was also a way to teach people about the plight of whale sharks around the world; as the biggest fish in the world, whale sharks can also be seen as underwater swimming balloon! A symbol that strikes people's mind.
---
Grameen Bank Dialogue, Dhaka, Bangladesh, August 2008
With a 2009 target to launch its micro-credit program in Kenya, Eco-Sys Action was selected to attend the Grameen Bank Dialogue in Dhaka, Bangladesh and was represented by its president, Christian Pilard.
Presided by Nobel Peace Prize winner and father of micro-credit Pr Muhammad Yunus, the workshop was attended by 24 people from Sierra Leone, Ghana, Sudan, Tanzania, Germany, Indonesia and India. The theory was explained in Dhaka while a practical approach took place in Boalkali near Chittagong in the southeast of the country.
The system defined by the Grameen Bank enables millions of people to get the necessary funds to come out of poverty. Thousands of meeting centers are scattered around the country with a pyramidal organization up to Dhaka headquarters.
It was a remarkable time that will greatly help Eco-Sys Action set up its own micro-credit fund to assist communities without creating dependency.
During the opening ceremony, Christian Pilard gave the beautiful Eco-Sys Action & United Nations Environmental Program (UNEP) Baobab of Life trophy to Pr Muhammad Yunus as a tribute to his action for the poor.
---
Eco-Sys Action was again Monacology-Festival partner, Monaco, June 2008
Officially opened by S.A.S Prince Albert II of Monaco, who appreciated the products displayed at Eco-Sys Action booth, the fourth edition of the environmental festival in Monaco reached over one thousand kids in Monaco. They were able to join games and fun activities like the artistic workshop with bird international specialist, Hermann Heinzel.
This year, the 1st Short Film on Ecology and Environment Festival was a nice addition with over 100 films in competition. This international and professional competition was also opened to young people through the "Ntic-Young Talent" award that gave youngsters the opportunity to express their thoughts on the environment with the use of gadgets like mobile phone, digital photos and video, webcam, etc. An exhibit of electrical cars was also appreciated by visitors.
The Eco-Sys Action area, with its Eco-6 branded products, was again a focus with its orginal creations like the cuff bracelets from Kenya made out of recycled shirts.
---
Tree planting, Salama, Kenya, May 2008
Eco-Sys Action started a portion of its pledge to UNEP Billion Tree Campaign by planting 1,000 trees in the Salama area in Kenya. This is a preliminary operation to test the soil and sensibilize kids to their environment. As Mary Wykstra, Cheetah Conservation Fund Kenya Director, says, "It helps communities understand that the environment which supports carnivores is the same environment which sustains the livelihood of the people."
Four schools were selected in the Salama area and each tree is taken care by a group of students. A presentation on trees and the environment was given to them by a botanical specialist while an educational program was set up to help them understand the role of predators in the ecosystem.
Indigenous Acacia sp., Lucena, Cassia saimea, Balanites sp. and decorative Neem and Jacaranda were among the species planted. The project will expand to set up tree nurseries and a similar action in the Samburu area with the Ewaso Lions Project. More than tree planting, it's the awareness raised by every single tree that makes this Salama project with kids so special.
About 1,000 more trees have also been planted at two cattle dips where CCF initiated a campaign to improve livestock health and therefore show farmers the benefits brought about by preserving cheetah habitat. Because land divisions in the last 20 years have caused deforestation and reduced water supplies in this area, new trees and the ongoing program to reforest part of this ecosystem have given hope for a better future for both the community and the wildlife.
---
Piano concert by Norman Tennent in Glasgow, Scotland, April 2008
It's a wonderful initiative by Norman Tennent, whose piano-playing talent is recognized thorough Europe, and who organized "Lunch & Listen @ Lansdowne" in Glasgow, Scotland. Friends and piano aficionados spent a lovely afternoon listening to Norman and contributing to Eco-Sys project in Kenya with over £600 donated. 100% of this amount will be allocated to the program. You can listen to Norman's magic sound below and enjoy such a friendly and meaningful gathering.
---
Eco-Sys Action attends the OGRAN meeting in the Pendjari Park, Benin, March 2008
The OGRAN (North and West African Cheetah Conservation Institute) aims to gather more information on the very rare North African cheetahs and to enforce conservation programs. The exchange of information between the members of this network is an important step to saving this endangered species.
Delegates from Algeria, Togo, Niger, Nigeria, Burkina Faso and Benin came together and presented the different findings on the status of the cheetahs. During this meeting Christine Breitenmoser, co-chair of IUCN Cat Specialist Group, and Sarah Durant, who coordinates the cheetah program in the Serengeti National Park in Tanzania, presented global information on cheetahs in Africa and Iran.
Park rangers from the Pendjari and W National Parks were trained on identification and biology.
By working with park rangers and managements, the OGRAN organization will gather more data on the little known status of cheetah in North and West Africa and establish plan to help its conservation.
It was a great opportunity for Eco-Sys Action to meet with these people and understand the needs of such an endeavour. The first focus for Eco-Sys Action will be in the Benin part of the W National Park, in the Banikoara area.
---
United Nations for Environment (UNEP), Nairobi (Kenya), February 2008

The Eco-Sys Action International Conservation Football Cup (ICFC) has been officially endorsed by the United Nations for Environment (UNEP). This is a major support for the ICFC that aims at raising environmental awareness and gathering funds for sustainable projects around the world through football tournaments organized in Europe, the Middle East and Hong Kong and in developing countries.
UNEP has recognized Eco-Sys Action action as being in line with its strategy on Sport & Environment. Read more.
The ICFC will be held in 2009 and will show how football can bridge cultural differences and help meaningful projects on the ground that will positively impact both local communities and their eco-system.
---
Golden CA Award Ceremony, Valence (France), December 2007
Association Eco-Sys Action was awarded the Golden CA by French bank Credit Agricole in the Environment category.
This prize highlights Eco-Sys Action contribution to sustainable development and its work in enabling people help themselves to the benefits of the environment. The trophy was received by Philippe Gavotto, Eco-Sys Action Director, who explained during his speech how Eco-Sys Action is all about long-term actions. Eco-Sys Action action with kids and cheetahs in Kenya was also explained. This message will be relayed via a video by Credit Agricole nationwide.
---
Wil Raymakers visits Eco-Sys (ESWD) in Kenya, November 2007
World-acclaimed cartoonist Wil Raymakers was the special guest of the foundation and launched the ESWD "Art for Kidz" project. Wil shared lots of humorous stories and it was a great time for all. Kids were overwhelmed by his "Ox Tales" stories which are some of the funniest tales in the animal kingdom. His books have been a fantastic communication tool, and definitely show that humour has no borders and can be appreciated by everyone!
---
KLM donation, Amsterdam (Holland), November 2007
Before her trip to visit Eco-Sys project in Kenya, KLM gate agent Sandra Raymakers was able to collect US$2,000 through donations from her colleagues. This amount will go directly to help Eco-Sys Kids Project and cheetah conservation in this East Africa nation.
It was a wonderful and spontaneous action from Sandra, definitely an inspiration for all. Thanks to everyone who pitched in and be sure that every euro will be wisely spent and go to help our projects!
---
World Conference on Sports and Environment, Beijing, China, October 2007

Eco-Sys Action was invited by the United Nations Environment Programme (UNEP) to this conference jointly organised by UNEP, the Olympic Committee and Bocog, the Beijing Organizing Committee for the 2008 Olympic Games.
Participants from all over the world exchanged ideas and experiences on how sporting events can become sustainable. Speeches from the Torino Organizing Committee and Rio de Janeiro 2007 PanAmerican Games Committee were among the most interesting. In his keynote address, Jacques Rogge, president of the IOC reminded everyone of the need for sport to be more meaningful and environment-friendly.
With the upcoming first Eco-Sys Action International Conservation Football Cup (ICFC) in 2009, the conference was a gathering not to be missed and everyone showed interest in the ICFC format.
Visits to a Beijing school promoting sustainable development and to the Olympic village were scheduled to help understand Beijing's efforts towards supporting the environment in spite of a heavy fog covering the city that reminded every participant of the huge pollution affecting China's capital.
---
Mountain View Conservation and Breeding Centre, Langley, Canada, October 2007

Eco-Sys Action was invited to this world-class breeding and re-introduction center located near Vancouver. The work they do there is amazing and Renee Bumpus was the best guide to tour this piece of Eden host to over 50 species of the world's most rare and endangered wildlife.
The latest conservation project and maybe one of the most remarkable at Mountain View is the world's first captive breeding program for the highly endangered Northern Spotted Owl. Its population in the wild has dropped to as few as only 19 owls all over Canada. The facility and flyway built by Mountain View has been designed to accommodate nine breeding pairs from the remaining captive population.
If you wish to help this rescue project, visit www.mtnviewconservation.org
---
Wildlife Conservation Network Expo, San Francisco, USA, October 2007
This year, WCN took place at the Mission Bay Conference Center in San Francisco. It was a great time to meet conservationists and the keynote speaker was the wonderful Jane Goodall, DBE. Her speech was as usual very inspirational and the energy she put in the Roots and Shoots program is fantastic. Jane was carrying a Californian condor feather thorough her talk, symbol of this bird that came back from the brink of extinction. She is a true example to all of us. Check out the story of the black robin.

From Iain Douglas Hamilton of Save the Elephants to Elena Bykova of Saiga Conservation Alliance, it was a day to remember and all speakers captivated the audience with their stories and updates from the bush. Nature surely has its angels!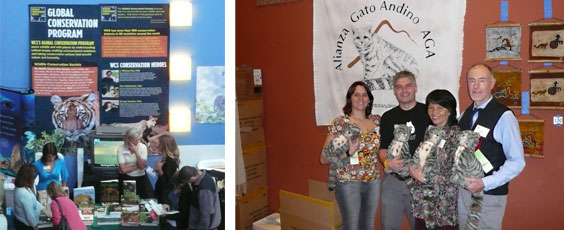 ---
Snow Leopard Exhibition, Safari de Peaugres (France), July 2007
After Jurques and Thoiry and for the fourth year of its French tour, the Eco-Sys Action Snow Leopard Exhibit under the yurt moved South to Safari de Peaugres in Ardeche. The public will be able to travel to Central Asia through the photos of kids inviting them for a long journey into snow leopard territory. People will discover not only the difficult situation of this big cat, but also the diversity of cultures along the fame Silk Road. It will also emphasize the ambitious projects we have with the Snow Leopard Trust (see project).

Located at the heart of the kids' playground, the yurt will be a sure hit with children and an unique experience. Schools are again scheduled to visit it and a CD kit with fun games and questions about the snow leopards (through the story of Barz, the snow leopard cub) will be remitted to them.
Handicrafts from Kyrgyzstan and Mongolia were sold at the shop together with our cute Barz plush toys. Visitors will be therefore able to directly contribute to the project and help protect the snow leopard and its unique biodiversity.
---
Cheetahs and kids helped by schoolchildren, Cherbourg (France), June 2007
In a wonderful example of how children can help other kids and wildlife at the same time, the Saint-Paul School in Cherbourg (France) organised a photo exhibition, an auction of embroidered works and mosaics made by some students and a bowl of rice day to raise money for the Eco-Sys project in Kenya (see project).

Valérie Pilard and Elodie Lerogeron set up a team of little artists who worked during lunch breaks for months on beautifully made mosaics and embroidery works featuring animals. Combined with the bowl of rice day, the proceeds of the sales brought back over 770 euros to the Eco-Sys Action Foundation.

This money will be a great help to the 35 kids taken in by the Eco-Sys Action project in Kenya in order to raise awareness in the villages about the endangered cheetahs.
It also shows that one person can make a difference and that kids are so sensitive to meaningful actions.
---
Monacology, Monaco, June 2007
Eco-Sys Action was again this year an active partner of Monacology, which set up its eco-village along Monte Carlo harbour.

It donated a giant tiger for auction and run an Eco-6 shop with some proceeds going back to Act for Nature, the organizers. Prince Albert II was kind enough to pay a visit to Eco-Sys Action and was given a Boopy book by our director, Philippe Gavotto.

Eco-Sys Action animal costumes were also in action around the village and created a fun atmosphere among the visitors.

Act for Nature and the Stars N Bars worked very hard on this second edition of Monacology and we are looking forward to next year with the village getting bigger and bigger and attracting every year more schools to visit. Kids are taught about their environment like the Mediterranean Sea, Madagascar ecosystem, etc.
---
United Nations for Environment (UNEP), Nairobi (Kenya), May 2007

Eco-Sys Action pledged to plant 100,000 trees to support the "Billion Trees Campaign" launched by UNEP under the patronage of Prince Albert II of Monaco and Nobel Peace Prize winnerWangari Maathai.
The Eco-Sys Action project will not only involve tree planting, but will also include establishing nurseries and a sustainable medicinal plant microbusiness to ensure long-term benefits for the local communities involved. Most of the planting will take place in Kenya around cheetah habitat. See more.
---
Eco-6 awarded the merchandising of Mulhouse Zoo shop in Eastern France
Eco-6, the commercial division of Eco-Sys Action, won the tender to manage the new, nearly 400 sq.m. Mulhouse Zoo shop. Its proposal did not simply involve marketing, but also ethics with clear directions on the shop's ecological concept. The project that was approved by the city board will see the construction of a global center with an information desk, the cashiers, and the shop.
The new building will follow sustainable development criteria, incorporating features such as a green roof, a heat pump, and a reinforced isolation system. Its energy consumption will be less than 40kWh/m2 per year, four times less than average.
The shop will open by the end of 2008 and it will be possible to directly access it without entering the park. It will be a great place for shopping and discovery. The wide range of Eco-6 products will be innovative and always connected to Eco-Sys Action projects as well as the park's values. Each article sold will enable Eco-Sys Action to go further with its projects.
---
Wildlife Conservation Network, Los Altos (California, USA), October 2006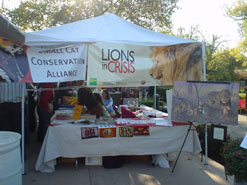 Eco-Sys Action was present at the Wildlife Conservation Network (WCN) fundraising gala dinner, expo day and garden party.

Wonderfully organised by Charles Knowles and his team, it was a very successful weekend with some of the most prestigious names in conservation, from Laurie Marker of Cheetah Conservation Fund to Ian Douglas Hamilton of Save the Elephants.

An evening at the table of Claudio Sillero of Ethiopian Wolf Conservation was very much inspiring. Musician Kenny G entertained the audience with his soft music while model and actress Cindy Crawford ruled the auction.
Lectures by all the conservationists were given at the expo day while a market brought many foundations together.
Eco-Sys Action lent a helping hand at the Painted Dog Project booth run by Wendy Blakeley while Greg Rasmussen and Peter Blinston were discovering the cartoon book made by Eco-Sys Action (see Igy, the painted dog pup) following our trip to Zimbabwe earlier in the year.
The garden party was a nice way to meet more great foundations like the Small Cat Alliance of Jim Sanderson as well as listening to music from around the world.
---
Eco-Sys Action tiger gets star treatment, June 2006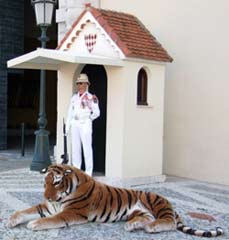 Our giant tiger plush was a star at the world-famous Negresco Hotel in Nice, France. We were welcomed by the Negresco's staff, and even their cat mascot said hello! Overall, it was a comfortable and enjoyable stay. Official authorization was also given by Monaco Palace for a photo shoot there.

The late afternoon was spent on a beautiful American sailing boat anchored in Monte Carlo harbour on her way around the world. We'd like to thank Nicolas Cegalerba for his great shots. After his expedition in Guyana and Madagascar, it was a refreshing change for him to take care of our giant plush tiger! Enjoy his art at ncegalerba.com and don't forget to look at our photos on his website.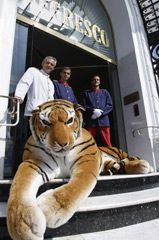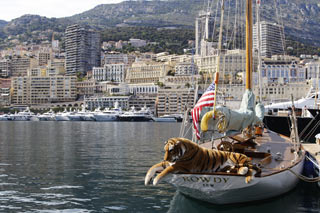 ---
A Big Conservation Gathering, June 2006
Eco-Sys Action were again the official partners of the 3rd Conservation Forum in Angers, France. Organized by Pierre Gay of Zoo de Doue-la-Fontaine, the forum this year focused on South America.

Serious issues, inspiring connections
Talking to so many eco-warriors and conservationists was very inspiring. Everything from the survival of the spectacled bear in the Andes, the increasing traffic of macaws in Bolivia, the situation of maned wolves in Argentina to the pet trade of sloths in Colombia were discussed.

A productive and uplifting meeting
There's so much to be done to educate local communities and governments around the world. But it was very reassuring to listen to such dedicated people, all fighting for the environment and doing their part in helping out. It was an extremely productive and uplifting meeting, with new ideas exchanged as well as new connections formed among eco-warriors. Thanks Pierre!
All the participants received a document holder made of recycled juice packs by Eco-Sys Action in the Philippines, a project helping over 200 families in a Manila suburb.
---
Monacology, Monaco, June 2006
Monaco - Eco-Sys Action & Eco-Fun were the official partners of the 2nd Monacology Exhibition in Monaco. Organised by Act for Nature, the event was a great success.
Hundreds of school kids were taught about the environment, learning about Madagascar's ecosystems, the survival of the Perrier's Sifaka lemur, turtles' fight for life in Senegal, and the Mediterranean Sea's ecosystem.
The famous green Monacology silicone bracelet was distributed to every kid and again, the star of the week was our giant tiger plush (2 m 40 /7 feet +) which amazed everybody, including Formula One great Harald Franzen and his children. Eco-Sys Action & Eco-Fun had a booth and our eco-plush toys, recycled bags, and T-shirts sold like hot cakes!
---
Snow Leopard Exhibition, Thoiry (France), May 2006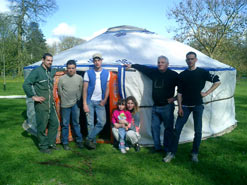 After two years in Jurques, the Snow Leopard Exhibition moved closer to Paris, in Thoiry Park. In the beautiful setting of Thoiry's 16th-century castle, the Eco-Sys Action Mongolian yurt once again became a place of discovery about snow leopards through the eyes of Central Asian kids. A step into the yurt and the visitor is taken to a faraway trip to the Silk Road where time is catching up on the snow leopards. See our project with the Snow Leopard Trust to boost this great cat's survival rate.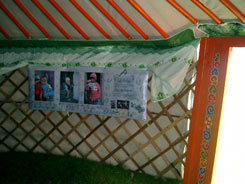 ---
The Night of the Sifaka, Monaco, March 2006
Organised by Act for Nature, this first Night of the Sifaka was held in the grand hall of the Musée Oceanographique in Monaco. Prince Albert II was present as well as the ambassador of Madagascar in France, Jean-Pierre Pastor and Olivier Arnoult of Act for Nature, Conservation International president Russell Mittermeier, etc.

The Perrier Sifaka is a very endangered lemur living in the northern part of Madagascar (see our project there) with only a few hundred left in under-pressure forests.

Eco-Sys Action's commercial arm, Eco-6, had worked on a collection of Perrier Sifaka plush toys that give a fun note to the meeting. Profits from the sales will go directly to Act for Nature and help save those incredible lemurs.

The evening was also a way to focus on the unique biodiversity of Madagascar and the possible solutions to help preserve it.
---
IAAPA Exhibition, Atlanta (Georgia, USA), November 2005

Through Eco-6 and its new product collection, the Eco-Sys Action Foundation was the main sponsor of the Zoo & Aquaria Social of the International Amusement Park Association (IAAPA) for the third year in a row. This time, the annual meeting was at Zoo Atlanta and panda conservation was on everybody's mind after the visit of the black and white animal symbol's enclosure. The high amount paid to the Chinese government by Atlanta to host the two pandas benefits the species in the wild with closer monitoring and increased conservation efforts.

---
Exposition "beware, fragile sea" in Grand Aquarium of St Malo, France, June 2005

Eco-Sys Action teamed up with the Association Mer Fragile, working on the exhibit details such as shark conservation posters and financing all the posters to create a summer of awareness to the aquarium's visitors. Hundreds of signatures were also collected for shark conservation in French Polynesia and sent to the authorities there via the action of Longitude 181 Nature of François and Veronique Sarano.

The exhibition focused on the poor state of the seas and the simple things we can do to help protect our oceans, clean up our beaches and be responsible for our marine environment. Local schools participated in several concrete actions and kids were taught about their role in that ecosystem.

A Spanish short documentary called The Sea Belongs to Everyone was also given by Eco-Sys Action to the hosting organization for screening in the aquarium's main hall.

Recycled Eco-6 products were also sold at the aquarium shop.
---
Celebrate the Sea, Singapore, June 2005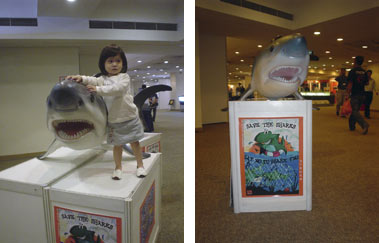 This year, "Celebrate the Sea" has settled down in Singapore and Eco-Sys Action was once again the main sponsor. Emphasis was on shark conservation and the public was welcomed by an Eco-Sys Action cartoon exhibit with "Reefy, the little shark of the oceans" (see story) and a huge resin shark sculpture that was offered to the Ocean N Environment Foundation for their ongoing awareness campaign. World-famous biologist Sylvia Earle and acclaimed National Geographic photographer-in-residence David Doubilet were present and warmly congratulated the Eco-Sys Action team for their continuing efforts on shark conservation education. They received an Eco-Sys Action marine crystal which they enjoy very much (see the full collection). As usual, the drawing contest was one of the highlights of the gathering and the kids left with a happy smile with their Eco-6 gift.

---
Snow Leopard exhibition, Jurques (France), April 2005
This year, Eco-Sys Action partnered once again with Zoo de Jurques for a new snow leopard exhibition under the Eco-Sys Action yurt. The new exhibition explains the problem of those big cats in Central Asia with a photo exhibit showing only kids from Mongolia, Kyrgyzstan, Uzbekizstan and Xingjiang, China. Again, this wonderful part of the world is highlighted and the plea of snow leopards is told in a way that makes people understand the fragile balance of life between man and nature.

Schools were again invited to tour the exhibit and kids learned the simple, tough but also happy life of children in the sometimes harsh conditions of Central Asia.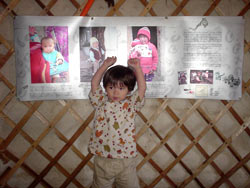 Handicrafts from Kyrgyzstan and Mongolia as well as cute snow leopard plush toys were on sale at the zoo shop to raise funds for Eco-Sys Action's project with the Snow Leopard Trust (see our project).
---
Antibes World Festival of Underwater Pictures (France), November 2004

Meeting all our conservation friends at Antibes was again a rare pleasure. Shark conservation was thoroughly discussed with Leo Blanco whose photos, movie and video clips on sharks are a great mix of awareness and humour. We also met with Francois and Veronique Sarano and established a firm intention for Eco-Sys Action to cooperate on a large-scale project with their association Longitude 181 Nature. Bernard Abeille showed us once again that conservation and music can match so well, photographer Todd Essick launched his new "beginnings" photo collection and "the painter of blue" Pascal Lecocq who delighted us once again with his humorous and touching art. It was also nice to chat with Jean-Michel Cousteau, Philippe Valette, Daniel Mercier and Pierre Cotton and so many more.
---
IAAPA Exhibition, Orlando (Florida, USA), November 2004
The main sponsor of the International Amusement Park Association (IAAPA) was again Eco-Sys Action, this time with a memorable evening at Universal Studios, Orlando. Guests at this Zoo & Aquarium Social all received a snow leopard plush toy symbol of Eco-Sys Action commitments to the Snow Leopard Trust (see our project). The plea of snow leopards echoed all night under Florida's palm trees.
---
Eco-Sys Action Shop grand opening, Valence (France), October 2004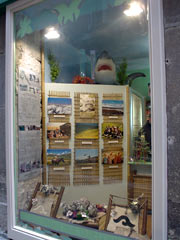 A dream came true this October with the grand opening of the first Eco-Sys Action Shop in Valence (France). Opened by Philippe Gavotto as a pilot shop to test the whole concept, this shop will enable us to provide the consumer with outstanding products from around the world. It will also enable us to spread the conservation message through the exhibition corner. The exhibit will be on snow leopards in Central Asian and the shark exhibit scheduled to open in spring next year.

Our giant tiger is the focus of all attention and brings so many people inside the shop. Handicrafts from Kenya, Kyrgysztan, and Mongolia are part of the unique products designed by Eco-6, the commercial arm of Eco-Sys Action.
Having a shop has always been the goal of the foundation in order to finance itself and help local communities where Eco-Sys Action works at the same time.
Once the concept is validated, Eco-Sys Action will be looking at developing more shops and may go into franchising.
---
Celebrate the Sea, Kuala Lumpur (Malaysia), July 2004
Once again, this year, Eco-Sys Action was a major sponsor of the Ocean N Environment Foundation in its endeavour to bring more understanding and awareness to Malaysian people about the marine treasures surrounding them. Short films from the four corners of the world were screened with the likes of Tony White providing live commentary. The special guest this year was the great marine life artist Wyland, who created a mural painting beginning and ending with the exhibition. Kids were also welcomed to paint with Wyland on a collaborative mural. Eco-Sys Action thanked the kids with a great Eco-6 gift. All VIPs also received a unique Eco-Sys Action marine crystal at the closing ceremony (see the full collection).
---
Conservation Forum, Angers, June 2004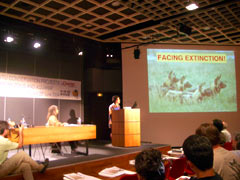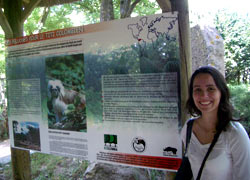 Eco-Sys Action participated in the 2nd Conservation Forum in Angers organised by Pierre Gay of Zoo de Doue la Fontaine. The sessions were organised by continent and many great foundations explained their hard work, hopes and needs. From Colombia to the Philippines, from Namibia to Bulgaria, the attendants got an outstanding update on the state of our worldwide biodiversity situation.
Every speaker was thanked with a unique Eco-Sys Action crystal (see the full collection) and greeted by our giant tiger at the entrance as well as posters explaining Eco-Sys Action philosophy and projects.
Numerous contacts were made there and the perfect organization by Laurence Paoli of Urban Nomad is also notable.
---
Snow Leopard exhibition, Jurques (France), June 2004
Eco-Sys Action created an innovative exhibition in Zoo de Jurques, France. The first part of the exhibition has been set up with eight giant posters explaining not only the threats that put the snow leopards on the endangered animals list, but also the beauty of Central Asia through the photos of photographer Rene Cagnat. A television showed a short movie secured through the International Snow Leopard Trust where the public can appreciate the magnificent beauty of snow leopards in the wild. The second part of the exhibition featured framed photos of Rene Cagnat under a genuine traditional yurt imported by Eco-Sys Action from Mongolia.

It is important that the public discovers not only this big cat but also understand the fantastic culture of Central Asia and the gorgeous landscapes. A great journey!
Rene Cagnat was present at the grand opening and commented the photos to the guests including Pascal Lecocq, the famous "painter of the blue", who came from his neighbouring home of Honfleur.

Many schools are scheduled to visit the exhibition. The poster's special format will enable the little ones to discover the cartoon story of Barz, the snow leopard cub (see story) in the lower part. A 50-page school kit with fun games and questions about Barz will be remitted to every visiting school in a CD format. It will be covering three age levels. It was prepared by teacher and Eco-Sys Action school program adviser Valérie Pilard.
---
Antibes World Festival of Underwater Pictures (France), November 2003
Following the Celebrate the Sea exhibition in Kuala Lumpur, the Eco-Sys Action Foundation was kindly invited by Daniel Mercier and Pierre Cotton, the organizers of the legendary Antibes World Festival of Underwater Pictures in France (www.underwater-festival.com). Most of the marine world lovers meet there and it was especially unforgettable for the Eco-Sys Action team to welcome crew members of the famous Calypso of Jacques-Yves Cousteau like Falco, Andre Laban, Francois Sarano and of course Jean-Michel Cousteau. And what a wonderful time it was!
---
IAAPA Exhibition, Orlando (Florida, USA), November 2003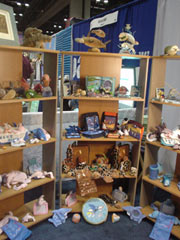 Eco-Sys Action was present at the International Amusement Park Association (IAAPA) exhibition held in Orlando and was the major sponsor of the Zoo & Aquaria Social event at Marina Cove. The goal was to introduce the projects and display the products of its commercial division, Eco-6, an important source of financial support for the project.



After the workshop in the morning, the delegates from most of the zoos and aquariums in the country enjoyed a lovely Eco-Sys Action evening around the pool in a relaxing atmosphere. IAAPA organised an auction of zoo products in order to raise funds for Give Kids the World, a wonderful foundation that set up a fun residence hotel to host sick children and bring them to parks like Walt Disney World or Sea World.
---
Dive Expo, Sydney (Australia), September 2003
Eco-Sys Action participated in the International Dive Expo in Sydney, Australia and met wonderful people there, not the least of them Jean-Michel Cousteau! The level of conservation awareness is very impressive down under and kids were very attracted by our message.
---
Celebrate the Sea, Kuala Lumpur (Malaysia), August 2003
Eco-Sys Action has partnered the Ocean N Environment Foundation (based in Singapore) at the first "Celebrate the Sea" exhibition in Kuala Lumpur. Emory Krystof, the deep sea diver working with James Cameron on the

Titanic

project ,was introducing his latest IMax movie

Volcanoes of the Deep

. A drawing contest brought entries from several countries on the Save the Sea theme. All kids received a gift from Eco-Sys Action for their outstanding talent and imagination.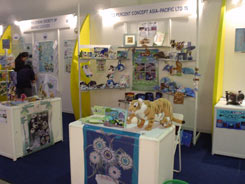 The Malaysian public turned out in droves to learn more about the oceans and its fragile ecosystem. Malaysia has one of the most incredible biodiversity in the world ranging from tigers, tapirs, rhinos and elephants in its peninsular parts to orangutans, proboscis monkeys and pygmy elephants in Malaysian Borneo. Through its islands and long seashore, its marine life is also thriving with sea turtles, sharks, whale sharks, manta rays, etc.
---
FSC forest field trip, Perak (Malaysia), March 2003
Eco-Sys Action joined a field trip organized by WWF to visit an FSC-managed forest (see www.fsc.org) in the state of Perak in Northern Malaysia at the border with Thailand.
From a guided walk in the forest to a visit to a furniture factory, the trip encompassed the several stages of a tree from the forest to our home and workshops focused on how the FSC label helps forests to avoid being cut. After such a tour, you can never look at wooden furniture the same way again.
The visit also took us to an orang asli (a forest tribe) settlement which shows how cultures and the fragile balance of the forest and its inhabitants can disappear with the chainsaw.
Eco-Sys Action is a founding member of the China Forest Trade Network.