Meet Wilton Tsimango!
Wilton Tsimango is the Environmental Education Officer at the Painted Dog Project in Dete, Zimbabwe. Boopy chatted with him for a while on his way to visit his friend Igy, the painted dog pup
(see Igy's story).


1. Can you describe your job?
My job involves visiting local schools to prepare them for their maiden trip to Iganyana Bushcamp and also teaching conservation education to the children, with particular emphasis on painted dogs in the Hwange National Park ecosystem. It also involves supervising staff and the general day-to-day running of the camp
activities.

2. What is your background? What should we do to become an environmental education officer and what qualities should we have?
A teacher by profession for the past 17 years and 12 of these as a Headmaster, a regional trainer in the Better Environment Science Teaching Program, holder of a Masters Degree in Education. You need to have a passion for nature to develop the right attitude towards conservation and must also have a good background in Environmental Science issues at base level.

3. What is so special about painted dogs?
Painted dogs are a rare kind of species, which cannot be crossed with any other, so it has a unique coat. Its niche is a special one as it is a selective predator. It is considered one of the most endangered species on the planet and highly need our protection through action and education.

4. What's happening to them?
They are becoming extinct, hence the need to conserve them through legislation and awareness. They are vicitims to poaching, habitat loss, and road killing.

5. What other wildlife do you have around you?
Hwange National Park is one of the biggest parks in Africa and thus has more than 300 types of wildlife species around, including elephants, giraffes, zebras,
lions, etc.


6. How does the PDC bushcamp work?
The camp can accommodate 45 students at once and 8 adults on campus. Local sixth grade students come to the camp for a period of four days to learn about nature conservation and painted dogs in particular. PDC provides this experience to the 19 schools free of charge.
Vehicles drive to schools to pick and drop students; therefore they don't walk to the camp or have to board a bus. While there, they stay in roundavels (huts) for two to three days with running water and pit latrines provided.

The learning is quite unique in the sense that it's more hands-on than the chalk-talk they are accustomed to in their classes. The activities include Game Drive into Hwange National Park, an opportunity which most people don't have the chance to experience, even though the Park is a stone's throw from their villages.

7. How many kids come to this bushcamp every year? Where are they from?
About 600 students from the local 19 schools come to the bushcamp a year.

8. Is it true that this bush camp is the highlight of many kids' youth?
Definitely it is, since most of the local youth around will one day have a chance to visit the camp and feel the experience.


9. What is your best memory at PDC?
In 2004, when we hosted the first local school, the parents who had accompanied the students almost cried when they were given a platform to comment on the way the program was and how they felt about being the pioneers of the program.

10. Do elephants really come around the bush camp sometimes?
They do pass by on their way to the nearby waterhole.

11. Have you ever meet poachers? How does an anti-poaching unit work?
I have met a number of poachers and have actually been involved in the apprehension of some. The 18 guys employed in the Anti-Poaching Unit patrol the designated areas, collecting snares and arresting poachers if they come across any.

12. What can kids do to help save painted dogs?
The kids can actually report any sightings and give information PDC staff in relation to poachers, dogs, and any other animal.

13. What message would you like to share with our readers?
It is vital to take action now and save the planet, and also to prevent the disappearance of painted dogs and other endangered species.

14. You teach a lot to kids, but what do they teach you?
I have learnt that children need respect, love, and care as much as we adults do. They have very important ideas, which we adults need to consider at certain times.

15. What is your dream?
To see the bush camp prosper and turn into an even bigger institute of learning.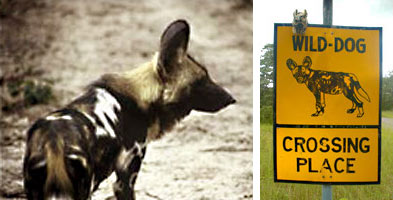 Learn more about our projects in this community.

Visit our partner,

Painted Dog Conservation. Read the story of Igy.