Eco-Sys Action
The world of Boopy
Boopy's Blog
Eco-Sys Action Football Cup
PDF Presentation
BOOPY NEWS !
Once again let's talk about Celia Ho.  This 14 year old Hong Kong girl never ceases to amaze me.  In the last few weeks she has been contacted by National Geographic, the BBC, the South China Morning Post, Asian Geographic magazine and many others.  Celia's method: a simple letter to her local newspaper and an iron will to change things, starting with saving elephants.  In China, environmental education has only just begun, but I am confident that Celia will be the spark that makes this country a world leader in conservation.  A crazy but calculated gamble that we will talk more about very soon.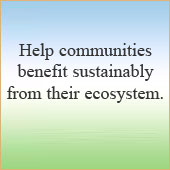 ECO-PROJECTS

---

SHARING

---
To Cambodia where, thanks to Boopy, a dozen students from villages bordering Virachey National Park, accompanied by their teachers, discovered Phnom Tamao Wildlife Rescue Center.  An unforgettable visit for these children who actively support the remarkable work of  the association
Poh Kao
, organizer of the trip, to save Cambodia's magnificent yet fragile natural beauty, like the Indochinese tiger.
ECO-SYS ACTION FOOTBALL CUP

---

BOOPY'S ADVENTURES

---
Direction Haiti where soccer goals offered by Boopy were much appreciated by the youth of Jacmel, a city hard hit by the 2010 earthquake.  Boopy and Eco-Sys Action financially support
Pompier International's
project to build a safe house, run by an exceptional woman named Charlotte, which offers opportunities for sport, education and small scale industry to help young women living alone.  The project is also responsible for reintegrating children from surrounding mountain villages, forgotten since the earthquake, back into the school system. 
BOOPY POWER

---

ECO-6, STUFFED TOYS WITH A PURPOSE

---
Boopy joined his friend
Captain G
in Galorian's new book "G- The Journey to Ludoland," a philosophical tale about the power of imagination, creativity through play and the necessity of  environmental preservation.  The adventures of Captain G and Boopy Sparrow transport us to magical places where only our inner child can help us understand the subtle details and inspiration that emerges.  Yi ya! 
One last hope for elephants: don't buy ivory!
A big thank you to the talented Emily Lam Ying and Julia Wong Cheuk Yin from The Hong Kong Polytechnic University for their animation of
Boopy Power
.
If you no longer wish to receive this newsletter please unsubscribe.