Eco-Sys Action
The world of Boopy
Boopy's Blog
Eco-Sys Action Football Cup
PDF Presentation
BOOPY NEWS !
Our world lacks simplicity.  The more I travel, the more I fly over continents, the more I read, the less I understand.  There is an enormous gap between children who have a vision of the world which is fair and full of hope, and disillusioned adults, opportunists, who are fuelled only by rhetoric, broken promises, and summits and meetings that too rarely lead to concrete actions.  A waste of time and energy!  We must quickly return to more human, deeper, and simpler values.  Values in line with the needs of our beautiful and fragile planet!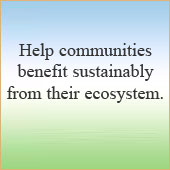 ECO-PROJECTS

---

SHARING

---
Simplicity is one of the great qualities of Celia Ho.  Far from political and associative debates, this incredible girl from Hong Kong shares her message subtly, gently, and with unusual determination.
Take 12 minutes to listen to and understand her message
, 12 minutes that are worth hours of lectures, and at the end, Celia's own voice which resonates in a song that she wrote and sings with passion.
ECO-SYS ACTION FOOTBALL CUP

---

BOOPY'S ADVENTURES

---
Boopy and Eco-Sys Action Football Cup (EAFC) were back in Lewa, Kenya, for the women's tournament which became extremely popular after the success of the first edition last year.  This year, 180 players from 12 schools supported by Lewa, competed in exciting matches while the team from the Lewa Conservancy explained to the athletes and the public the importance of preserving their environment.  After each game, the children were treated to a guided tour of the reserve to appreciate the flora and fauna, as well as discover black rhinos, Grevy's zebras and many other species which inhabit this zone of high biodiversity.  A great moment!  More info
here.
BOOPY POWER

---

ECO-6, STUFFED TOYS WITH A PURPOSE

---
Collectors stamps to help Boopy further develop his work in the field; to help more children and to increase ambitious conservation projects.  Boopy Post stamps were inspired by the desire to be useful by simply giving and collecting.  Educational and beautifully made, help spread the word of these charity stamps.  A nice gift idea and a great solution to help Boopy!
www.ecosysaction.org/boopypost
"My good friend, David Parkinson, passed away, tragically, unnecessarily.  We will treasure his smile, his love of life, his respect for others and the local community in Kenya where he was so active and appreciated, his passion for Africa, and his fight for nature.  Thank you David, thank you for everything.  We love you Sonja. "

Our thoughts are also with Damo, a simple and discreet friend who left us too early.
If you no longer wish to receive this newsletter please unsubscribe.