Eco-Sys Action
The world of Boopy
Boopy's Blog
Eco-Sys Action Football Cup
PDF Presentation
BOOPY NEWS !
Let's talk once again about elephants.

With poaching at its height in Africa, many Asian countries led by China are hungry for more and more ivory but there is still hope. I could witness this during my last trip to Qingdao, China with the incredible Italian photographer Federico Veronesi. From young students to older educated members of the public, everyone attending the lectures and exhibits has been truly touched by Federico's images. The huge problem caused by the ivory trade just becomes so obvious when you see and learn more. It has been the same feedback every time Celia Ho talks about this topic. Celia and Federico are the perfect leaders of a different type of conservation centered mainly on awareness and inspiration. Lets check the key events below representing their tireless efforts.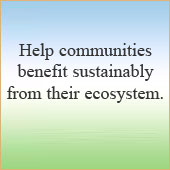 Celia Ho introduced her campaign at the Open Day of her school, True Light Girl's College in Hong Kong. Her action is strengthened by so many interviews (National Geographic, Asian Geographic, Sharp Daily, South China Morning Post, Young Post, Times Magazine for Kids and more in Chinese medias), contacts with many schools and soon an amazing video. On Facebook, Celia has over 1,500 fans. Impressive for only an 8 month campaign.
Federico Veronesi recently visited the Qingdao University and Qingdao Ocean University. He presented two very successful lectures which focussed on the elephant's beauty and intelligence while also highlighting their uncertain future. Federico was very impressed by both the enthusiasm and the very precise nature of the questions posed by the students in the audience. They really showed how much they cared and demonstrated a tremendous interest for elephants, endangered species and conservation in general.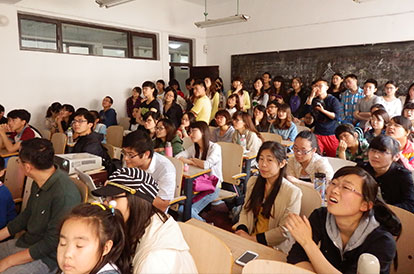 In Qingdao, three lectures and three exhibitions (each one lasting a month) by Federico Veronesi took place at the Private Banking VIP lounges of three of the most prestigious banks of this city which has a population of 7 million people. From beauty to tenderness, the power of Federico's wonderful photos has never been so obvious. All participants have been seduced and inspired by the artist's simple yet strong message.
At Qingdao airport, another smaller exhibition has been launched at the Wild Bean Cafe conveniently located next to the VIP lounge. Federico Veronesi could also check the meaningful partnership he set up with Skap, a Chinese chainstore retailer specialised in high quality footwear. During a 6 month campaign in over 25 shops, Skap has agreed to display a poster of Federico's photo with a "Say no to ivory" slogan. This action is being relayed on Skap's social networks. The immediate feedback from this meaningful marketing is extremely encouraging.


How can one resist to such magnificent, heart-warming photos?
If you no longer wish to receive this newsletter please unsubscribe.