With its "Cheetah School" in Kenya, Eco-Sys Action understood the place of women in the future of our planet.

Eco-Sys action has committed to integrating a policy of micro-credit in the local communities it works with. Ideally, these micro-credits will provide assistance without creating dependence in the medium or long term and will lead to a more dynamic region.

This project will increase local revenue, benefiting in particular, child nutrition and education. This project, taking place in a zone of biodiversity, will adopt the cheetah as its representative animal. This feline will then become a symbol of development and improvements in daily life brought about by micro-credit.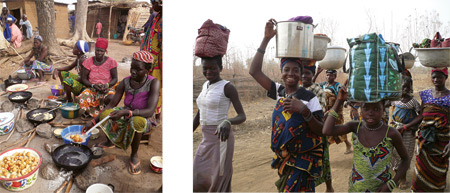 Micro-credit, hope for women in Kenya
Training at the Grameen Bank in Bangladesh with Professor Muhammad Yunus, 2006 Nobel Peace Prize winner and father of micro-credit, provided a theoretic base and field experience to better understand both the functioning and potential traps of this economic tool. Additional micro-credit projects have been studied in other African countries like Sierra Leone and Ghana.
Why are more than 95% of micro-loans granted to women?
· Possibility to manage their own projects and to reduce inequality.
· Accession to greater independence.
· Better budget and micro-business management.
· Increased family well-being.

Concrete projects?
· Create an Eco-Sys Action micro-credit fund to permit the financing of certain projects.
· Recruit an individual responsible for micro-credit.
· Prioritize projects linked to the environment (bee-keeping, tree nurseries, etc.) and education (cooperative with a percentage going directly to the schools, vegetable gardens at school).
· Special help to those who have followed an Eco-Sys Action education program..